After just one year since its official incorporation, 
Winedering
, 
the marketplace of wine experiences for wine tourists
, has become 
the most visited wine tourism marketplace in Italy
 based on SemRush data, one of the most reliable worldwide source of search engine data.
Among the 7 main Italian marketplaces, 
Winedering is the one with the highest number of users coming from Google searches
 and also the one with 
the highest number of indexed keywords
.
"We did it in less than one year", say Denis Seghetti, cofounder and CDO of Winedering.com. "Since April 2021 we invested on Google AdWords CPC campaigns to understand which were the best keywords to focus our SEO efforts on and we started to work on SEO at november 2021."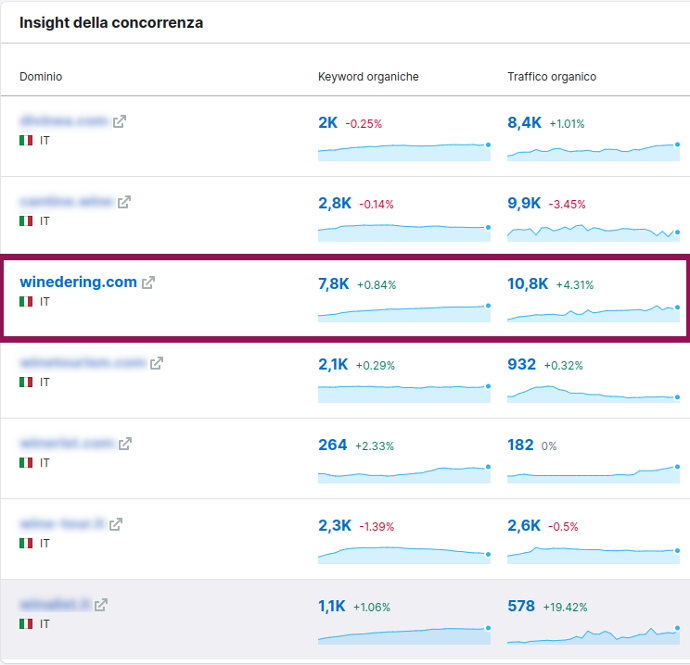 Winedering's internal architecture and the overall website performances are strictly designed to be SEO oriented.
These characteristics, mixed with amazing and fresh contents, have given Winedering the ability 
to increase its base of unique users from Google's search engine by
3922% in last 12 months
.
"It's astonishing!" Denis Seghetti sais, that continues "For my experience i was pretty sure we could have these results, but not as fast as it happened.
SEO is usually a long term strategy, but our amazing work has been recognized really fast by Google".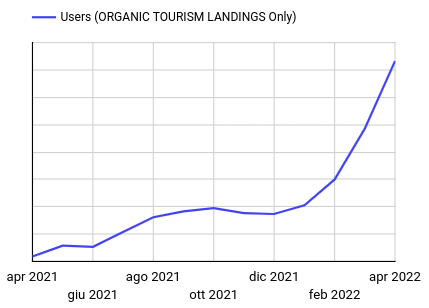 Users from Google organic traffic landed on wine destinations or wine experiences pages. Source: Google Analytics

From the competition point of view, Winedering has been able to overtake competitors in a very short time, although there are still many pages that Google has to index and bring in the top ten. Winedering, now, has even Tripadvisor in its sights as the results of the last 3 months show, in which Winedering itself has eroded visibility to the American giant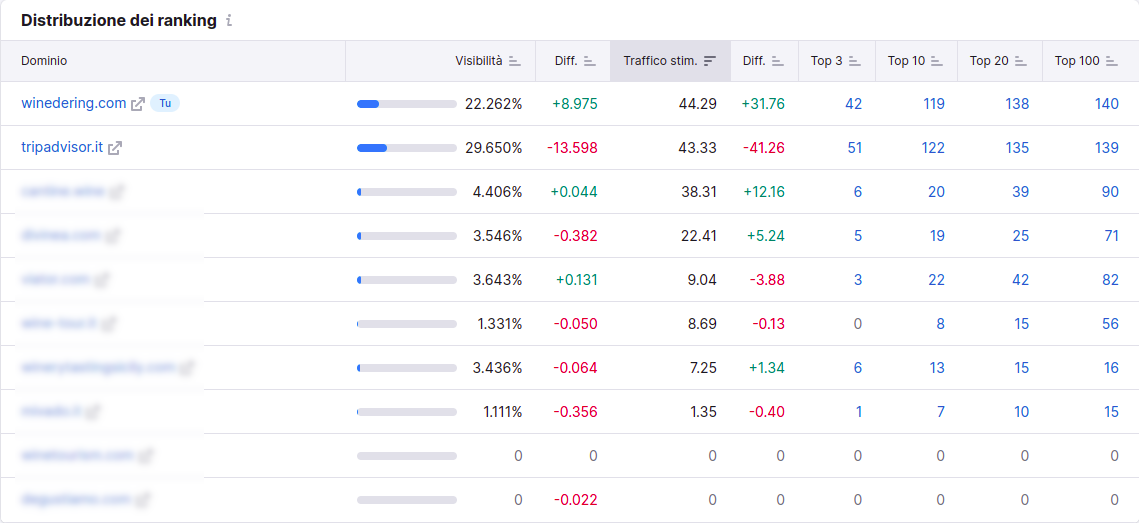 Estimated traffic difference and keywords distribution in top 3, top 10, top 20 and top 100 positions on Google for a set of 14o keywords tracked in february 22, march 22, april 22. Source: Semrush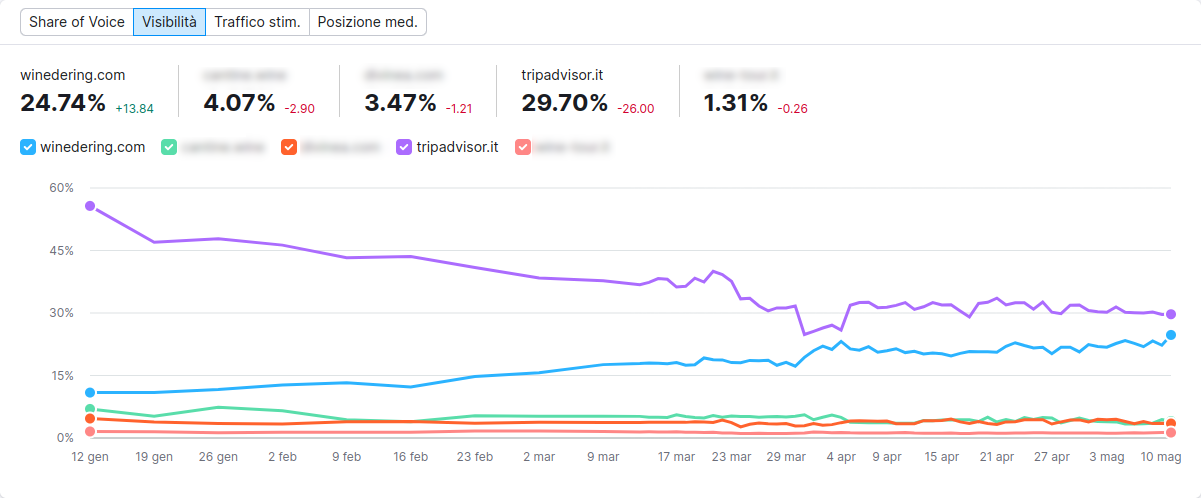 Google rankings visibility for a set of 14o competitive keywords, like "tuscany wine tasting" or "langhe wine tasting", tracked between january 12th and may 10th. Source: Semrush

"TripAdvisor has always been a source of inspiration for us" declares Denis Seghetti "we have been following its evolutions, both technically and commercially speaking, for years and it is really incredible to be able to struggle with it to place the most interesting keywords in the first positions on Google. Being vertical in the world of wine tourism is undoubtedly our strong point, Google understands it and for dozens of keywords it seems to appreciate us more than it appreciate TripAdvisor!"
Winedering is now, for sure, one the most important weapon a Winery should implement in its Marketing Plan.
What next? "We will continue to seak out for new wineries, open new destinations and begin testing our model abroad as well. Online visibility is our guiding star and we will continue to work to ensure that our organic position on search engines becomes rock solid for years to come."
---
Winedering.com: the marketplace of wine experiences
Join our marketplace and sell your wine experiences online to worldwide wine tourists!